By: William McConnell on: January 13, 2015
My Visit to Talamanca and the Indians
Originally published in The Central American Bulletin, 1892. A report following an exploratory trip, to see what it would look like for the mission to send workers into that area.
I went from Limon Saturday, August 15, 1891, by the government steamer to Cahuita, a distance of twenty-five miles south of Limon, which is at present the port of Talamanca, though it is said Old Harbor will be the port very soon. Cahuita has about sixty or seventy inhabitants, mostly Jamaicans and Colombians, all of whom speak English. They raise cocoa nuts and catch turtles for food and for the shells. Here I got a horse and rode down the coast eight miles to Old Harbor, inhabited by about twenty people. Stopped with Horatio McNish, a Colombian, over Sunday. Had three little meetings in his house while there.


I found a Jamaican woman, a member of the Wesleyan church at Kingston, Jamaica, living here in adultery. She seems to be very unhappy and desires to come back to God, but doesn't see how she can, having no means and being dependent on the man for support. I urged her to forsake her sins and assured her of God's love and care tor those who are His and who are willing to trust Him. Prayed with her, commending her to God.
Started at 7:30 Monday for Talamanca on horse back in company with two boys who were going up. Crossed the Sicsoli river at 10 a.m. at Coabre, in a canoe, the horses swimming over. Forded some other small rivers and many creeks, rode up and down hill through mud and mire and bushes, over the worst road I ever saw, arriving at Talamanca, a distance of about twenty miles from Old Harbor, at about 4:30 p.m.
Met the Commandante Don Chico Alvarada, an old man 73 years old, who speaks good English, soon after arrival. Told him my business. He appears friendly. Met the chief of the Talamanca or Blanco Indians next day after I arrived. His name is Antonio Saldana. He speaks Spanish fluently, and understands some English. Is about 30 years old, and has three or more wives.
The village of Talamanca contains about a dozen buildings and thirty-five to forty people — Colombians, Jamaicans, and Spanish. They seem but little better than the Indians. It is a very rare thing for any of them to be married and many of the men have more than one woman keeping them in different place They seemed willing to listen to the gospel and while there I had eight little meetings, most of them in the evening.
The Indians live in the "bush," one house in a place, but quite a lot of people in a house, the old people, their children and grandchildren all living together. I went out amongst them several times going twice to the chief's house. The first time I gave him some small presents, some red bandanas, and some books and tracts in Spanish.
The books were the Gospels. The chief cannot read, however. When I came away be asked me when I would come back. Said he would like to have a missionary. One day I had a good interpreter named William Stewart, a half breed, and I had a meeting in three different houses, but only reaching fifteen people personally, as most of the people were out working or bunting. They seemed very much interested in what I said and claimed to believe it. Stewart said he thought fifty or sixty of them could be got together Sundays to hear the gospel.
I attended a funeral the Sunday I was there. Went to the house at noon and found they bad killed a bullock and some pigs and chickens and bad a large quantity of plantation rice and checha. The latter is a drink they make which is more or less intoxicating and which they drink in large quantities, also chocolate. I saw no images and no evidence of intelligent religious ceremonies. They had little fires burning, and they took two pieces of chocolate wood, placing a piece of cotton between them, warming the upper piece, then heating a rod of calabash wood they turned it between their hands, pressing the heated end against the upper block until the cotton ignited.
At 5 p.m. they wrapped the remains up in cloth in a hammock and wild plantain leaves, and carried the body away on a pole to a place where they suspended it in a tree where there they will leave it till the bones are bleached, when they will bring them back and have a feast which lasts from one to three weeks. Then they take the bones to their final resting place.
About sixty people were present and William Stewart asked the bead man if he would like to have me pray and he said as the deceased had not been christened he would not. I told Stewart I could not pray for the dead woman, but would like to pray for those present.
The bishop has been to see the Indians three times, I believe. He either goes, or comes across the country, and has from ten to thirty people with him. The first time he went he left San José with fifteen mules and returned with one.
I am told a good deal of the country where the Indians live is not accessible on horseback, but can be reached on foot. There are probably not less than 2,000 nor more than 3,000 of the Blanco Indians, some speaking their language well and others speaking it as the negroes. Many of them speak the English language.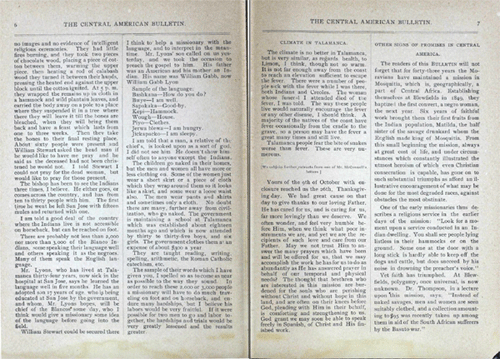 Original image of the 1892 issue of The Central American Bulletin


Mr. Lyons, who has lived at Talamanca thirty-four years, now sick in the hospital at San José, says he learned the language well in five months. He has an adopted son 17 years of age, who is being educated at San José by the government, and whom, Mr. Lyons hopes, will be chief of the Blancos some day, who I think would give a missionary some idea of the language before going into the field. William Stewart could be secured there I think to help a missionary with the language, and to interpret in the meantime. Mr. Lyons' son called on us yesterday, and we took the occasion to preach the gospel to him. His father was an American and his mother an Indian. His name was William Gabb, now William Gabb Lyon.
Sample of the language:
Bashkana-How do you do?
Bwye-I am well.
Sapakaka-Good-by.
Kepi-Hammock.
Wough-House.
Piyo-Clothes.
Jerwa blewa-I am hungry.
Jickapacko-I am sleepy.
I am told that a man, a relative of the chief's, is looked upon as a sort of god. I did not see him. He doesn't show himself often to anyone except the Indians. The children go naked in their homes, but the men and women all have more or less clothing on. Some of the women just wear a short skirt or a piece of cloth, which they wrap around them so it looks like a skirt, and some wear a loose waist also. The men wear pants and shirts and sometimes only a cloth. No doubt there are many, further away from civilization, who go naked. The government is maintaining a school at Talamanca, which was established about eighteen months ago, and which is now attended by thirty to thirty-five boys, and six girls. The government clothes them at an expense of about $300 a year. They are taught reading, writing, spelling, arithmetic, the Roman Catholic catechism, etc. The sample of their words, which I have given you, I spelled so as to come as near as possible to the way they sound.
In order to reach these 2,000 or 3,000 people a missionary will have to do much traveling on foot and on horseback, and endure many hardships, but I believe his labors would be very fruitful. If it were possible for two men to go and labor together, the hardships and trials would be very greatly lessened and the results greater.
Read more stories from the archives.
Journey with spanish speakers. Transform the world.