By: Phil O'Day on: August 20, 2015
"Bodas de Diamante" - Remembering Camino's Diamond Anniversary
Diamond Anniversary, 50 years later
- Remembering the 1966 anniversary celebration of the 75 years of ministry of the Central American Mission.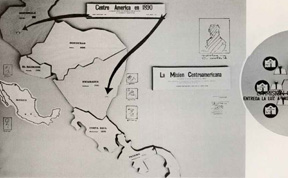 The Diamond Jubilee of the Central American Mission was celebrated in San José, Costa Rica the week of January 5-12, 1966, 75 years after the first missionaries arrived in the same city. The celebration was held during the "Eighth Congress of Central American Churches."
During the week of August 18, 2015, church leaders are again meeting in Costa Rica, this time in the city of Liberia, Guanacaste, for "Congreso Desafíos 2015" (the "Challenges 2015" conference), including a celebration of Camino's 125th anniversary.


"Bodas de Diamante" 50 años después - El legado de la Misión Centroamericana se celebró en San José, Costa Rica, durante la semana del 5 al 12 de enero de 1966, 75 años después de los primeros misioneros llegaron a la misma ciudad. La celebración se llevó a cabo durante el "Octavo Congreso de las Iglesias Centroamericanas."
El 18 al 20 de agosto de 2015, los pastores y líderes de las Iglesias Centroamericans se reunieron de nuevo en Costa Rica, esta vez en la ciudad de Liberia, Guanacaste, para el "Congreso Desafíos 2015", incluyendo una celebración del 125 aniversario de Camino Global.
Journey with spanish speakers. Transform the world.