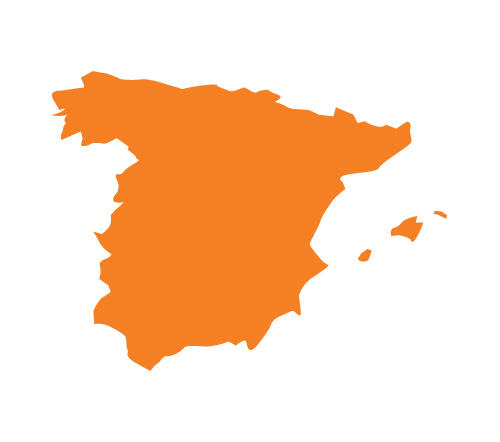 Capital: Madrid
Population: 45.5 million
Percentage Evangelical: Less than 1%
Year Camino Ministry Began: 1971
Easter in Spain
through the eyes of a Camino missionary
"In Spain, Holy Week, known as
Semana Santa
, is the biggest event of the year. Different Catholic brotherhoods prepare for Holy Week throughout the year. Over 100 statues, representing the different phases of agony and suffering depicted in the last week of the life of Jesus, are displayed throughout the city. In South Spain, specifically Sevilla, people dress up in long garments with cone shaped hats to do penance during the week. Many believe that by suffering through fasting, self flagellating, or wearing clothes designed to irritate their bodies, they will vicariously earn forgiveness of their sins committed during the year between each
Semana Santa
. Even children are instructed to do similar acts of penitence.
Instead of being sensitive to God and understanding what Christ's victory over suffering and death has done for us, for many Spaniards Easter has become an attempt at personal atonement for sin by inflicting pain upon themselves. When the weekend ends, people return to their normal routine. The suffering and intensity is forgotten until the next year.
For me and my family, Easter is an incredible time to reflect, to be quiet, and to understand more about God's great redemption plan. It is a time to reflect on God and His Gospel, and on what Christ has done for us all. This season is an opportunity to share with others the good news about Jesus."


---
Country Profile
Spain, the "mother country" for Latin American culture, remains one of the most spiritually needy countries in the world. Different historical factors have led to a secular nation of practical atheists deeply resistant to the gospel. Over 7,000 cities and towns remain bereft of any vibrant witness for Jesus Christ. Camino Global missionaries work closely with national believers, using every possible means of creative outreach for evangelism and leadership training toward the establishment of transformational local churches around the country.
At the same time, Camino Global missionaries are involved in mobilizing Spaniards and other nationalities (Latin Americans, Chinese, North Africans) for outreach to people groups even more spiritually needy than the local population.
Did you know?
In Spanish, "Camino" means "journey, way or path."
Journey with spanish speakers. Transform the world.
Follow the journey
Thank you
You have successfully signed up for our newsletter.
Founded in 1890 as the Central American Mission and known as CAM International since 1975, The scope of outreach today is truly global. Camino missionaries serve alongside Spanish speakers everywhere, with feet on the ground on four continents.

The mission of Camino Global is to make disciples of Jesus Christ, serving among and with Spanish-speakers globally.