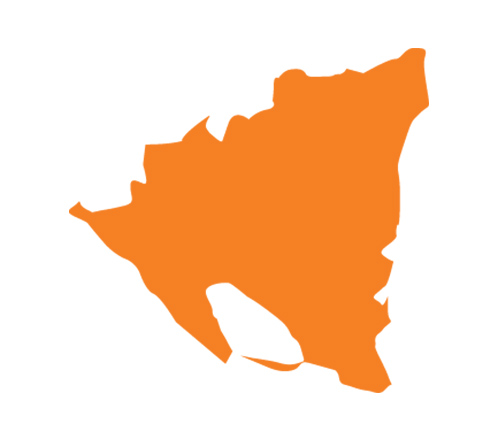 Capital: Managua
Population: 5.8 million
Percentage Evangelical: 29.8%
Year Camino Ministry Began: 1900
Easter in Nicaragua
through the eyes of a Camino missionary
"Nicaragua exhibits traditions similar to most Latin American countries. The people of Nicaragua begin celebrating Holy Week on Palm Sunday with a procession called
Procesión de la Burrita
. Either a statue of Jesus or a human who is playing the role of Jesus will ride around town on a donkey. People will have palm leaves in their hands and reenact the time when Jesus entered Jerusalem.
Throughout the week, families and businesses will design colorful rugs made of sawdust. The rugs are then displayed throughout the city or town. The rugs do not last long, destroyed during the processions that take place.

Many of the traditions were established by the Catholic Church in Nicaragua and are now an integral part of the culture. Easter is a time to rejoice and reflect on what God has done for us all through Christ's death and resurrection."


---
Country Profile
Nicaragua is the largest of the five Central American republics. Dominated by a chain of dormant volcanoes, the land has many scenic attractions. Lake Nicaragua is one of the world's largest freshwater lakes. Nicaragua has the least dense population in Central America with only 16 people per square kilometer. The country is still striving to recover from the effects of a decade-long civil war in the 1980s, and from natural disasters such as a string of earthquakes and Hurricane Mitch, which devastated major portions of that country in 1998.
For more than 100 years, Camino ministries in Nicaragua have led to the growth of greater than 100 congregations throughout the country. Other important ministries include leadership development through the Nicaragua Bible institute.

View Nicaragua's Prayercast video on prayercast.com
Did you know?
In Spanish, "Camino" means "journey, way or path."
Journey with spanish speakers. Transform the world.
Follow the journey
Thank you
You have successfully signed up for our newsletter.
Founded in 1890 as the Central American Mission and known as CAM International since 1975, The scope of outreach today is truly global. Camino missionaries serve alongside Spanish speakers everywhere, with feet on the ground on four continents.

The mission of Camino Global is to make disciples of Jesus Christ, serving among and with Spanish-speakers globally.