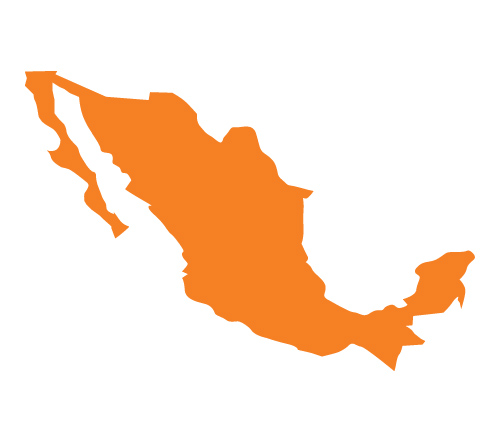 Capital: Mexico City
Population: 110.6 million
Percentage Evangelical: 8.3%
Year Camino Ministry Began: 1955
Easter in Mexico
through the eyes of a Camino missionary
"Mexico has an incredibly large number of religious holidays throughout the year.
Semana Santa
(Holy Week) is one of the biggest, if not
the
biggest, holidays celebrated in Mexico. Typically kids get two weeks off from school during this time, the week of Holy Week and the week after. It is one of the few times each year that the Mexican people actually get time off of work. Good Friday here in Mexico is a huge deal. There are tons of processions/parades in the streets. People will carry huge, heavy altars of the crucified Jesus, along with Mary and of other saints, for long periods of time, typically culminating with the arrival to a Catholic church where the priest preaches. Along with processions in many places there are reenactments of the events that took place on Good Friday. People will literally train for weeks beforehand to prepare themselves for the reenactments. The participants will carry the cross and will often times even be whipped with rope. In some cases even a reenactment of the crucifixion itself is carried out in detail. It is an honor to be a participant and people will admire you if you do it. Many believe that by participating in this way they will become more spiritual. Good Friday is the big event here. Not much happens at all on the actual day of Easter.
For me Easter signifies hope. It is the light that comes after the darkness. Easter is what makes the Gospel good news. Easter reminds us that Jesus wins, and sin, death, and Satan lose. Through His death and resurrection, Jesus has defeated sin, death, and Satan and one day they will be defeated in their fullness. One of my father-in-law's favorite quotes is by the Canadian scientist, G.B. Hardy who said, "When I looked at religion I said, I have two questions. One, has anybody ever conquered death, and two, if they have, did they make a way for me to conquer death?" Easter reminds us that both of those questions have been answered. Jesus died for our sins, Jesus conquered death, and Jesus gives us the same opportunity. Over the span of about a year and a half, my wife and I have lost four loved ones to death. Sometimes the impact of those losses and our grief can be overwhelming. It feels like death is the winner and we are the losers. But then I am reminded of 1 Cor. 15:26 that says, "The last enemy to be destroyed is death." The good news of Easter is that Christ is risen. Thanks to Jesus' death and resurrection we have the amazing gift and hope of spending eternity with our Savior. And you know what, there is no better news than that!
Typically we go to church where we get the chance to celebrate our resurrected Savior with our brothers and sisters in Christ. Afterwards we usually get together with our fellow Camino Global missionaries for a fun time of food and fellowship. We also hide eggs for all the missionary kiddos to enjoy finding."


---
Country Profile
Mexico is the largest Spanish-speaking country in the world, with a population well beyond 100 million people. The Camino team in Mexico follows an urban strategy, residing and working within a 300 mile radius of one of the world's largest cities, Mexico City. This region in the heart of the nation is home to 70 percent of the entire population.
Approximately 60 percent of the population is under the age of 21, and only three percent of the population of central Mexico is considered evangelical. All these statistics speak volumes about Mexico's tremendous need.
Key ministries in central Mexico today include church multiplication, leader formation, global missions mobilization, evangelism and discipleship, publishing and literature ministries, camps and conferences, music ministries, and a summer internship program. The vision of Camino in Mexico is to "Build the Church, Change the Nation, and Reach the World". All of these various ministries work in concert to establish and strengthen a church that is equipped to extend itself globally.

View Mexico's Prayercast video on prayercast.com
Did you know?
In Spanish, "Camino" means "journey, way or path."
Journey with spanish speakers. Transform the world.
Follow the journey
Thank you
You have successfully signed up for our newsletter.
Founded in 1890 as the Central American Mission and known as CAM International since 1975, The scope of outreach today is truly global. Camino missionaries serve alongside Spanish speakers everywhere, with feet on the ground on four continents.

The mission of Camino Global is to make disciples of Jesus Christ, serving among and with Spanish-speakers globally.