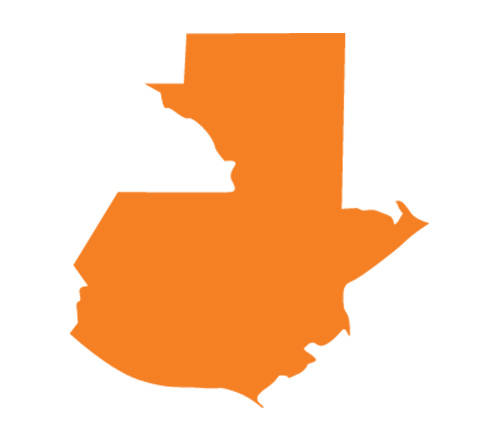 Capital: Guatemala City
Population: 14.4 million
Percentage Evangelical: 24.4%
Year Camino Ministry Began: 1899
Easter in Guatemala
through the eyes of a Camino missionary
"As you walk through the old city of Antigua during Holy Week, it is not uncommon to see colorful rugs called "alfombras" throughout the city lining up and down the Easter processional route. These rugs are made by hand and prepared weeks in advance to be displayed throughout the city. The rugs can have bible designs or verses on them. They are placed on the main roads, and you cannot drive on them. As a result, many people have to drive alternate routes to get around that week, and traffic can snarl.
Many Latin American countries celebrate Easter in similar ways. The people of Guatemala also participate in Catholic traditions such as the 'procesiones,' or the stations of the cross. Festivals and parades occur throughout the city to celebrate Holy Week and Easter.
For Christians, Holy Week is the most important liturgical season, and is dedicated to prayer and reflection on the mysteries of the passion, death, and resurrection of Jesus Christ, son of God. The time begins with Lent, known as the time of preparation, where the forty days of Jesus in the desert are remembered. All of the acts that are carried out since the beginning of Lent, have a Christian meaning, and with this we seek to remember the sacrifice of Jesus on the cross.

My family and I use the time during this week to pray, have fellowship with Christ, and share with our friends and family the love of God."


---
Country Profile
Known for its diversity and color, Guatemala is home to 23 Mayan Indian people groups, each having its own dialect. Camino has identified these groups, which number more half the total population, with ministries such as evangelism, church planting, Bible translation, printing and distribution of literature, radio, and leadership training. Camino-related churches in Guatemala now number 1,300 with a combined membership of more than 100,000.
Ministry priorities for Guatemala include the formal and informal training of leaders as well as the mobilization of the Guatemalan church for global missions. The Central American Theological Seminary (SETECA), the Guatemala Bible Seminary, and radio station TGNA, all play a vital role in reaching these goals. Additionally, Guatemala City is the location of the home office of FAM International, Camino's sister agency and partner in mobilizing Latin Americans as missionaries to the world.

View Guatemala's Prayercast video on prayercast.com
Did you know?
In Spanish, "Camino" means "journey, way or path."
Journey with spanish speakers. Transform the world.
Follow the journey
Thank you
You have successfully signed up for our newsletter.
Founded in 1890 as the Central American Mission and known as CAM International since 1975, The scope of outreach today is truly global. Camino missionaries serve alongside Spanish speakers everywhere, with feet on the ground on four continents.

The mission of Camino Global is to make disciples of Jesus Christ, serving among and with Spanish-speakers globally.