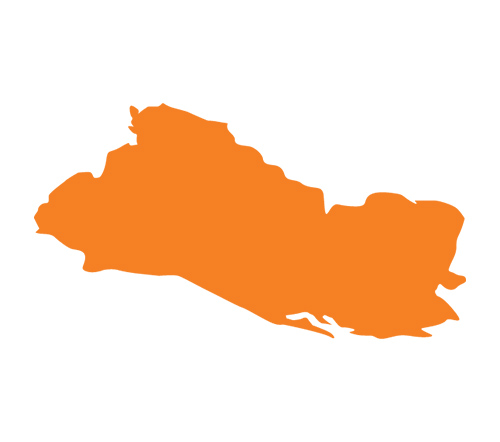 Capital: San Salvador
Population: 6.2 million
Percentage Evangelical: 31.6%
Year Camino Ministry Began: 1899
Easter in El Salvador
through the eyes of a Camino missionary
"Traditionally, Holy Week is a huge holiday in El Salvador. Whether based in Catholic tradition or not, festivals for Easter are big throughout the city or town. Schools will be out for the entire week of Holy Week. At the very least, business will be closed Thursday to Easter Sunday. Some may even get the whole week off. Today, many Salvadoran youth have begun to move away from traditions. Holy Week and Easter are seen as days to go on vacation to the beach and party.
In the cities and towns, colorful rugs called "alfombras" are also a part El Salvador's traditions. They are made out of sawdust and displayed throughout the streets. Families will work together designing the rugs throughout the week. Businesses will also often participate in this event. Priests will lead the processions the morning of Good Friday. The Passion of the Cross is reenacted to remember Christ's suffering. The procession will go throughout the city or town and end around noon at the Church. These processions reflect on the suffering that Christ went through on His last days on earth. Many people will take in these events and commemorations. On Sunday, many people that have not gone to mass throughout the rest of the year will come on this day.
The evangelical Church in El Salvador uses this week as an outreach opportunity to share with others that may not understand the real and full meaning of Easter. It is not uncommon to find people partaking in the traditions and festivities throughout Holy Week that do not fully understand God's grace and mercy. Through Christ's death and resurrection, we are set free and forgiven of our sins. Christ endured pain and defeated death for us all to receive eternal life through faith in Him."


---
Country Profile
El Salvador is the smallest of the Central American republics, approximately the size of Massachusetts. Its small size and shape, as seen on a map, have earned it the nickname "The Little Thumb." It is the only Central American country with frontage on only one ocean, the Pacific.
This country has arisen from a bloody civil war, including political unrest dating back to the 1930s. High unemployment and rampant violent crime have characterized the post-war nation. By God's grace, the Camino-related national church in El Salvador seeks to plant 75 new churches and double in size in the next ten years.


Did you know?
In Spanish, "Camino" means "journey, way or path."
Journey with spanish speakers. Transform the world.
Follow the journey
Thank you
You have successfully signed up for our newsletter.
Founded in 1890 as the Central American Mission and known as CAM International since 1975, The scope of outreach today is truly global. Camino missionaries serve alongside Spanish speakers everywhere, with feet on the ground on four continents.

The mission of Camino Global is to make disciples of Jesus Christ, serving among and with Spanish-speakers globally.