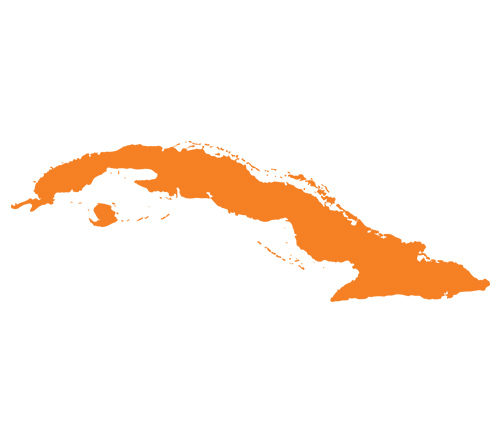 Capital: Havana
Population: 11.2 million
Percentage Evangelical: 9.8
Year Camino Ministry Began: 1940
Easter in Cuba
through the eyes of a Camino missionary
Cuba has been a communist country for more than 50 years. Due to the influence of a strong communist government, many of Cuba's public traditions and Easter festivities are not practiced, and in many cases are long forgotten. Some elderly have memories of the different religious festivities and traditions that were once present on the streets of Cuba. With the passing of time, the younger generation has largely not been exposed to Easter and its related traditions.
Today, many Cubans identify Cuba as an atheistic country. You will not find much enthusiasm regarding Holy Week or other religious holidays. In 2013, at the request of Pope Benedict XVI, Friday of Holy Week became a holiday for Cubans. However, when the government made it a holiday, they neglected to explain the reason to the public that it was Good Friday.
Similar to other Latin American countries, the Catholic churches in Cuba will have mass, perform processions (as the government allows), and celebrate Holy Week and Easter. The Evangelical Church in Cuba celebrates Easter similar to how the United States does. However, Easter eggs are not a part of the celebration. The Santería religion (an Afro-Cuban religion) also observes Holy Week with their own rituals and traditions.
While in Cuba, we always celebrate Easter giving thanks to God in prayer for the atoning work of Christ on the cross (no ceremony or special dinner for the date; it is not customary). At our church, the services are a special time for witnessing, giving thanks to God, and enjoying special moments of adoration. For me, Easter means the death and resurrection of Christ; the complete atoning work for the liberation of sin and its consequences for everyone who believes in Jesus.
"Get rid of the old yeast, so that you may be a new unleavened batch—as you really are. For Christ, our Passover lamb, has been sacrificed." -1 Corinthians 5:7


---
Camino has no resident missionaries in Cuba, but a large number who travel and spend significant time there. Camino has frequent ministry impact in theological education through a number of vital partnerships.
Prayercast | Cuba from Prayercast on Vimeo.
Did you know?
In Spanish, "Camino" means "journey, way or path."
Journey with spanish speakers. Transform the world.
Follow the journey
Thank you
You have successfully signed up for our newsletter.
Founded in 1890 as the Central American Mission and known as CAM International since 1975, The scope of outreach today is truly global. Camino missionaries serve alongside Spanish speakers everywhere, with feet on the ground on four continents.

The mission of Camino Global is to make disciples of Jesus Christ, serving among and with Spanish-speakers globally.