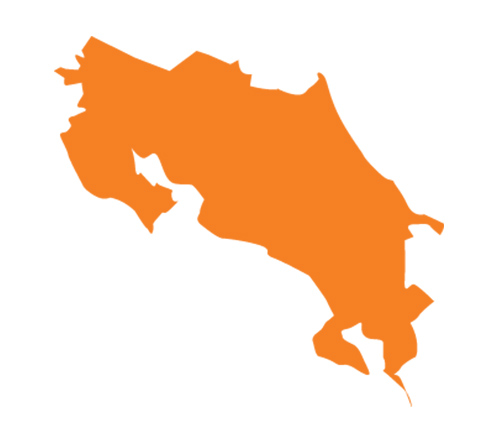 Capital: San José
Population: 4.6 million
Percentage Evangelical: 14.8%
Year Camino Ministry Began: 1891
Easter in Costa Rica
through the eyes of a Camino missionary
"In Costa Rica, the week leading up to Easter is celebrated as 'Holy Week'. From Wednesday of Holy Week to Easter Sunday, schools, businesses, and offices are closed. Some Costa Ricans travel out of town and enjoy the time off. Others stay behind and partake in a Roman Catholic tradition called 'procesiones'.
'Procesiones' are parades that can either be silent or full of life in Costa Rica. They portray the last days of Jesus on earth. Men will dress up as Roman soldiers and the parade will end at a Catholic Church. Several men and women carry statues of Jesus, Mary, the mother of Jesus, and other saints. People will pray to the statues believing that they do miracles. The 'procesiones' start on Wednesday and end on Sunday.
Easter week to me is the remembrance of Christ's trials and crucifixion. Easter Sunday means 'new life' in Him. It is a celebration of what He has done for us in dying on the cross, rising from the dead, and defeating sin for us all."


---
Country Profile
Costa Rica ("rich coast"), outstanding for its long-established system of public education, boasts that it has more teachers than soldiers, and more schools than barracks. One of the smallest of the Latin American republics in population and area, this country is proud of its orderly democratic national life. It has one of the lowest illiteracy rates in the hemisphere.
Costa Rica has spearheaded Latin involvement in cross-cultural missions. It is evident that with over 100 years of Gospel influence, Costa Rica has emerged as a strong missions force in reaching the world for Christ.

View Costa Rica's Prayercast video on prayercast.com
Did you know?
In Spanish, "Camino" means "journey, way or path."
Journey with spanish speakers. Transform the world.
Follow the journey
Thank you
You have successfully signed up for our newsletter.
Founded in 1890 as the Central American Mission and known as CAM International since 1975, The scope of outreach today is truly global. Camino missionaries serve alongside Spanish speakers everywhere, with feet on the ground on four continents.

The mission of Camino Global is to make disciples of Jesus Christ, serving among and with Spanish-speakers globally.