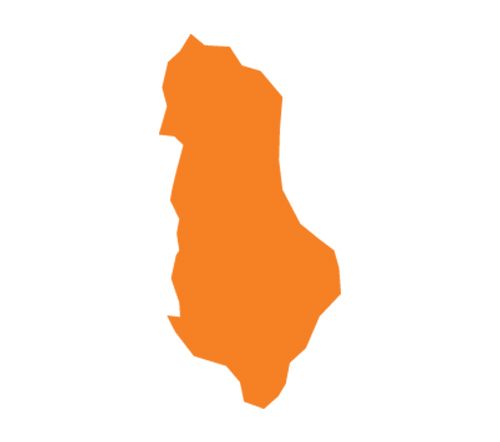 Capital: Tirana
Population: 3.1 million
Percentage Evangelical: 0.5%
Year Camino Ministry Began: 1898
Easter in Albania
through the eyes of a Camino missionary
"For half a century, Albania was under a communist government. As a result, Albania did not celebrate religious holidays until after 1991. Islam is the most practiced religion in Albania, but the Orthodox church and the Roman Catholic church also both have a strong influence. Even though Easter is now celebrated in post-communist Albania, the Orthodox and Roman Catholic calendars are different from each other. As a result, Easter is not celebrated on the same day. The Orthodox church follows the Julian calendar while the Roman Catholic Church uses the Gregorian calendar. This means that for Catholics, Easter is celebrated on April 1st, while the Orthodox church will celebrate one week later on April 8.
On Good Friday, Orthodox tradition will be on display as a lamb is sacrificed to symbolize Christ's sacrifice for us. Families will boil and dye eggs with different colors. Often red dye is used to signify Christ's death, resurrection, and new life for us all. Among children, eggs will then be smashed in a competition.
Midnight mass occurs the night between Holy Saturday and Easter Sunday. On that night, people walk through the streets with candles singing hymns. The procession then ends at the Orthodox Church. On Easter Sunday, many families have a feast together to celebrate.
Through our Church in Albania, over the years we saw Easter as an outreach opportunity. Many Muslims will often join in on the festivities of their Christian friends. We celebrated with lamb, talked about the Passover, and reflected on the sacrifice of Christ."


---
Country Profile
Albania is strategically located between the West and the Muslim world. Communism fell in this small eastern European country in 1991. The longterm effects of 46 years of nationalistic Marxism and wars in the Balkans have contributed to make Albania one of Europe's poorest countries.
During Communism, no religion was allowed to exist in Albania. The ban was lifted in 1990, but no legal provision was made for religious freedom until 1998. Today, while approximately 75 percent of Albanians claim a faith in God, less than 0.1 percent are believers in Christ. Camino's ministry in Albania has been developed in cooperation with a multi-national team approach, launched by Cooperation MAYA in Central America, a church consortium comprised of four churches located in Honduras, Guatemala, and El Salvador. Our partnership with Iglesia Bethel from Siguatepeque, Honduras is giving us the opportunity to partake in this project.
This unique partnership allows us to advance Camino's vision of mobilizing Latin Americans for global ministries. Camino desires to see models like this being reproduced in other potential expansion countries. Church planting is the primary focus of the team of Cooperación MAYA based in the capital city of Tirana.
Prayercast | Albania from Prayercast on Vimeo.
Did you know?
In Spanish, "Camino" means "journey, way or path."
Journey with spanish speakers. Transform the world.
Follow the journey
Thank you
You have successfully signed up for our newsletter.
Founded in 1890 as the Central American Mission and known as CAM International since 1975, The scope of outreach today is truly global. Camino missionaries serve alongside Spanish speakers everywhere, with feet on the ground on four continents.

The mission of Camino Global is to make disciples of Jesus Christ, serving among and with Spanish-speakers globally.